Perfection is first of all within all of us. Here, your inner perfection is underlined by taking care of your exterior.
To do my job, I need to be constantly alert to the aesthetics of the whole body. Here, I was offered the incredible comfort of not having to think about whether I had perfectly smooth skin.
Aneta Vignerová
Miss Czechia 2009
A breakthrough hair removal platform that combines maximum functionality with unrivaled comfort.
PERMANENT LASER EPILATION SOPRANO TITANIUM
6 treatments DISCOUNT 40 %
6 treatments DISCOUNT 40 %
6 treatments DISCOUNT 40 %
WHOLE FEET
6 treatments DISCOUNT 40 %
TREATMENT
WITH VITAMIN SOLUTION
Delight your loved ones by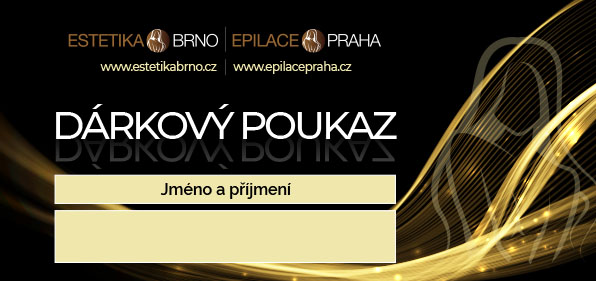 OPENING HOURS:
Mon–Fri 7.00am–9.00pm
If you want to order:
Phone: +420 603 770 771
If you cannot reach us, we will call you back.
E-mail: info@epilacepraha.cz
Address: Salvátorská 10, Praha, 110 00
in the STUDIO OSKAR
Where to find us?
GPS: 50,0890279N, 14,4210236E
ESTETIKA BRNO, s.r.o.
C 59073 held at the Regional Court in Brno
Chaloupky 50/25, Komín, 624 00 Brno
Monika Rujbrová
ID: 282 91 816
Bank account: 123-5272130207/0100
IBAN: CZ6901000001235272130207
Office: Minská 31, 616 00 Brno-Žabovřesky
Certificate of Incorporation
Competent authority according to Section 71, paragraph 2 of the Trade Act: Brno Municipality
We cooperate with
MUDr. Daniela Vitoušková
Dear customers, if you do not cancel the booked date in sufficient time (at least one day in advance), we will be forced to introduce cancellation fees.
RE-ORDER IS POSSIBLE ONLY 24 HOURS. BEFORE THE TREATMENT, OTHERWISE YOU WILL BE CHARGED FROM THE PERMANENT PASS.
The point is that a lot of other customers are interested in your date, and if you let us know (sms is enough) in advance, we are able to fill this date.
Thank you for your understanding.
A GIFT VOUCHER OBTAINED IN A COMPETITION OR FROM A SOCIAL EVENT CAN ONLY BE USED BY ONE PERSON FOR A ONE-TIME PAYMENT OF THE PURCHASED TREATMENT AND IS NON-TRANSFERABLE. IT APPLIES TO THE REGULAR PRICE LIST AND DOES NOT APPLY TO INTERNAL DISCOUNTS. DISCOUNTS CANNOT BE ADDED.